Joyous came for a late dinner tonight. Had a great dish from a new
America's Test Kitchen cookbook
. I should have the recipe posted on Sunday sometime.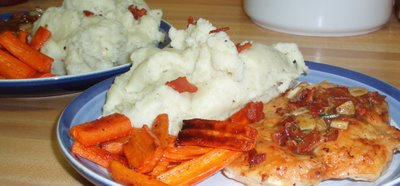 Chicken Breasts with Bacon, Rosemary and Lemon, served with Parmesan Mashed Potatoes and Roasted Carrots.



Chicken Breast
w/ Bacon, Rosemary and Lemon
Serves 4
5 slices bacon, chopped
1/4 cup flour
4 boneless, skinless chicken breasts
salt/pepper
1 TB butter
4 garlic cloves, sliced thin
1 TB chopped fresh rosemary
1/8 tsp red pepper flakes
1 cup chicken broth
2 TB fresh lemon juice
Fry the bacon in a large skillet over medium-high heat until crispy, about 5 minutes. Transfer to a paper towel-lined plate. Spoon off all but 2 TB of the bacon fat.
Meanwhile, place teh flour in a shallow dish. Pat the chicken dry with paper towel and season with salt & pepper. Dredge the chicken in the flour and shake to remove excess. Melt the butter with the reserved bacon fat in the skillet over high heat. When the foaming subsides, reduce the heat to medium-high heat and cook the chicken until browned on both sides, 3-4 minutes per side. Transfer the chicken to a plate and tent loosely with foil.
Reduce heat to medium and add the garlic, rosemary and pepper flakes. Cook until the garlic is browned and crisp, about 2 minutes. Stir in the broth and lemon juice and simmer, scraping up the browned bits, until slightly thickened, about 4 minutes.
Return the chicken and bacon to the pan and simmer, turning the chicken once or twice, until the sauce is thick and glossy, 2 to 3 minutes. Season with salt and pepper to taste and serve.
Sugar-Glazed Roasted Carrots
Serves 4-6
1 1/2 lbs medium carrots, peeled and cut into 2 by 1/2 inch pieces
2 TB butter, melted
1 TB dark brown sugar
1/2 tsp salt
1/2 tsp pepper
Adjust the oven rack to medium and heat oven to 475. Heat a rimmed baking sheet in the oven for 10 minutes.
Toss the carrots, melted butter, brown sugar, salt and pepper in a medium bowl until thoroughly combined. Remove the hot baking sheet from the oven and place the carrots on it in a single layer. Roast until the carrots are beginning to brown on the bottom, about 15 minutes.
Remove the pan from the oven, toss the carrots to redistribute and continue to roast until tender and deep amber in color, about 3 minutes. Serve.
Joyous and I both enjoyed this dinner...alot! The chicken was perfect. The dusting of flour helps create this thick, rich sauce of bacon, rosemary, garlic and lemon. Really divine. The bacon was such an awesome touch! The sauce was a sort of less piccata picatta...make sense? The lemon and garlic flavors pop, but the bacon and rosemary really mellow those flavors.
The carrots...yum! I loved the dark little carmelized pieces. Can't wait to try these again.